Property & Lead Management
Reduced paperwork and excel entries.
Entire database available at fingertips.
One can access the real estate software from anywhere & anytime.
Email/SMS Alerts and Notifications.
Increase your efficiency with customised search options.
Track progress report on a regular basis.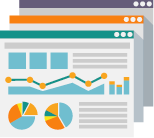 Employee Management
A single account in a real estate software can be accessed by 'n' number of users.
Multiple employee logins and hierarchy can be generated.
Different roles can be created based on the allocation of work.
Regularly monitor employees performance and manage a daily report.
Reminders for tasks & meetings can easily be scheduled by the employees.